How You Play
1.You must post the rules.
2.Post 11 fun facts about yourself.
3.Answer the questions that the tagger gave to you in their post, and then create 11 NEW questions to ask the people you've tagged.
4.Tag 11 people and link them on your post.
5.Let them know that you've tagged them.
11 things about yours truly...
1. I have a pet bunny named Funny Bunny. He is almost four years old and has been my best friend in the world through tough times, happy days, moving to San Francisco, and now will be there when we come back to SD. Dan says Funny Bunny will always come before him, and I think he might be right. :)
2. I practically live in two places. I have my cute little apartment in San Francisco and Dan's house in San Diego. Throw in my parents house in Coronado and my whole wardrobe is pretty much scattered within a 500 mile vicinity.
3. I absolutely love decorating and crafts. (#4 I really love hanging by myself-maybe to a fault at times. I go A.W.O.L. for a few days at a time and it makes me feel rejuvenated and clear.) I love getting QT on my own by doing DIY projects at home and making my home my perfect sanctuary.
5.Most of my best girlfriends have been my best friends since 1st grade! Tracy and I have made every life decision together since growing up on the same block since we were 5, and I was in Amira's wedding in 2010 and after 20 years of friendship still believe we are soul sisters.
6.Sometimes I walk around San Francisco and still am in awe. Living here is like some magic language that only you and your friends know how to speak to explain the devine feeling it brings you. The city becomes the essence of you. SF finds you.
7. I cannot wait another day to be with D in San Diego and start our beautiful life together. We share the same values and even though I am terrified to live with a guy, I am going to try to let go of my bachelorette ways and embrace a boyfriend, a puppy, and a bunny in one house. Actually, it sounds quite perfect.
8. I am a horrible person to watch a movie with. As I write, Dan is watching Moneyball and I am typing, and I guarantee I will ask a million questions in a few minutes because I do not have a clue what is going on.
9. My mom is my very best friend and we can spend hours upon hours talking fashion, interior designing, families, friends and love.
10. I am a hippie at heart and truly believe my heart lives in OB, San Diego. 5 months until I rejoin my favorite people in the world there.
11. I believe in happy endings!
Amira's questions for me...
1.Share the last item that you pinned on Pinterest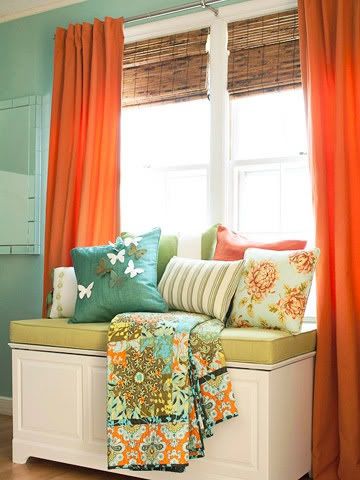 I am in love with orange, turquoise and gray for my and D's living room at the beach. :)
2.If you could snap your fingers and be qualified for any career in the world, what would you be?
Even though I absolutely adore teaching, I would love to write successful children's books.
3.What would you do with a million dollars?
First and foremost, travel. I would buy an around the world ticket, grab my best friends and D and take off for a while. Top on my list? South Africa and Tahiti.
4.What are the first 3 blogs you look at each day?
Amira's
Shades of Gray
Somethingnavy.com
And a million other fashion blogs I have bookmarked and love to look at for inspiration.
5.Show us a picture of your dream house.
A charming little house at the beach that I can entertain friends and family and play in secret passages through out. I would love a reading loft as well.
6.Tell us what you do for a living.
I teach adorable children. I play, do art, dance, sing, and laugh with them each day.
7.Tell us about your dream vacation.
My dream vacation consists of my family, D, and my greatest friends all on the beach in Montezuma, Costa Rica while drinking beers, eating delicious food, and laughing playing Apples to Apples and Yahtzee each night.
8.What is your #1 pet peeve?
When Dan makes my room messy. Bad tippers, slow walkers.
9.What is your favorite book?
Fried Green Tomatoes At The Whistle Stop Cafe. If you haven't read it, it is a beautiful story, way ahead of it's time. It is so dear to my heart.
10.Are you a Mac of PC girl?
PC. I wish I was cool enough to say Mac, but I am a creature of habit.
11.If you could have one superpower what would it be?
I would love to teleport myself to be anywhere I would like at any time.
11 questions for you.
..
1. Describe your perfect day
2. Would you rather have a huge closet with designer clothes or travel anywhere and everywhere?
3. What is your favorite animal?(Feel free to say bunny.)
4. What would you do on your dream date night?
5. Would you rather to have loved and lost or never have loved at all?
6. Favorite movie of all time?
7. Who is your hero?
8. What is the number one thing you look for in a partner?
9. Show a picture of the thing/person/people that makes you most happy.
10. Where is your favorite vacation spot?
11. If you could hop in a time machine to any era of the past, where would you choose?
Now, tag you are it!
Calikatrina

Faith, trust and Pixie Dust

Peace Love and Family
Annnnd... Since I am a horrible blogger, these are 3 blogs I enjoy reading from friends past. I could no where near try to tag eleven, I need to get on the blogging band wagon! :)